Belmar Criminal Charges for Misrepresenting Age and Tampering With Public Records Dismissed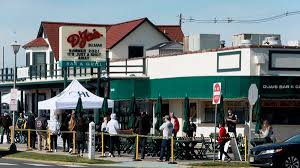 During the summer, our office receives dozens of calls from young adults, or their parents, after they are issued three summonses for trying to use a Fake ID to enter into a bar like D'Jais. Specifically, Belmar police officers will file three (3) charges against you if you are caught in possession of, or attempted to use, a Fake ID: Misrepresentation of Age – N.J.S.A. 33:1-81c, Tampering with Public Records – N.J.S.A. 2C:28-7a1, and Interference with Business – Ord. 16-26. Misrepresenting Age and Tampering with Public Records are treated as non-indictable disorderly person offenses in New Jersey. This means that they would generally appear on background check by future employers, licensing agencies or schools/universities. Therefore, they must be treated seriously and handled carefully to protect your rights and interests.
Can I Get NJSA 33:1-81c Charge Dismissed?
Yes. My office just recently did this very request for a client in the Belmar Municipal Court. Our client was alleged to have presented a false identification to bouncers at D'Jais Bar and Grill. Specifically, the client was charged with Misrepresentation of Age, Tampering with Public Records and Interference with Business. At our court appearance we were able to contest the case with the prosecutor and advocate before the judge for the dismissal of the Misrepresentation of Age and Tampering with Public Records charges. This result meant that our client would not have to be forced to carry around a record of this forgettable mistake.
What is Tampering with Public Records 2C:28-7?
Belmar is one of the few police departments that uses the criminal charge of "Tampering with Public Records", under N.J.S.A. 2C:28-7, for Fake ID charges. But how is using a Fake ID considered Tampering with Public Records? Well, in New Jersey, Tampering with Public Records offenses are treated as follows:
A person commits an offense if he/she:
Knowingly makes a false entry in, or false alteration of, any record, document or thing belonging to, or received or kept by, the government for information or record, or required by law to be kept by others for information of the government;
Makes, presents, offers for filing, or uses any record, document or thing knowing it to be false, and with purpose that it be taken as a genuine part of information or records referred to in paragraph (1); or
Purposely and unlawfully destroys, conceals, removes, mutilates, or otherwise impairs the verity or availability of any such record, document or thing.
Our firm's position in litigating these charges is that simply possessing a valid identification belonging to another person (rather than purchasing or creating a fake ID) does not qualify as a violation of this offense. This argument can be persuasive for certain courts and should be thoroughly researched before litigating in front of a judge.
Do I Need a Lawyer for Belmar Fake ID Ticket?
For an immediate consultation with a Fake ID Criminal Attorney, contact our office today at 732-858-5857. Our firm has represented numerous individuals dealing with criminal charges for possessing a fake ID. Allow our attorneys to put our experience to work for you or your family member.